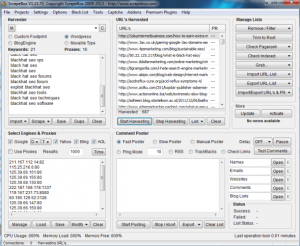 First of all, what is the difference between public and private proxies.
Public proxies
To a simple search on the internet, you can find a lot of websites that offer lists of so call "free" public proxies. Actually, the proxies are free, you don't have to buy them, but they also come with a price: these proxies are public, practically every one can use them, so the speed is slow and because of numerous number of users harvesting with the same proxies, they die very fast and are unreliable. However it will work again when less people use it. But maybe, the biggest disadvantage of the public proxies is the lack of security.
Private proxies
A better and safe alternative to public proxies is the private proxies, known as dedicated ones. Even if they cost money, they come with a number of advantages. One of them, and one of the most important, is the longer life of the proxies (compare to public ones) because nobody else, except you, is using them. Also the private proxies can get banned by google only if you abuse them. The private proxies are faster and safer that the public ones.
Private proxies are best for Social Media accounts as facebook, twitter, instagram, youtube, pinterest. Also for SEO tools as Scrapebox, GSA and Senuke or Xrumer.
Public or private proxies for Scrapebox?
Although Scrapebox doesn't require private proxies when it comes to harvesting URLs from search engines or creating backlinks, for your is security and profitability is better to invest in some fast and dedicated proxies.
Unlike public proxies that are banned very quickly by google, on private ones banning depends only by you. More specifically, by the setting of number of simultaneous connections. And even if google will ban them, proxies can still be used for posting. Also, for better results is recommended to set the timeout limit.
So, if you don't want to lose time searching google pass proxies between the public ones, if you want fast and reliable proxies, and very important- a professional technical support, private proxies provided by mexela.com seem to be the best choice when it comes by private proxies.